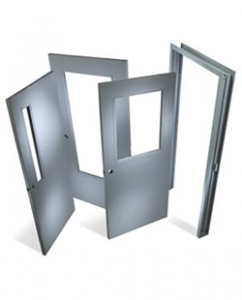 DS Series Steel Stiffened
DP Series Polystyrene Doors 1-3/4″ and 1-3/8″
(Optional Door Thickness Available, Ex. 2″ 2-1/4″)
"Strong, Quiet, and Energy Saver."
That's how our customers describe the DP Series Polystyrene Doors.
Each door has a self-extinguishing polystyrene core between CR A-60 galvanneal steel facings. This creates a superior barrier to heat and cold.
DP Series doors are available in 18, 16, 14 or 12 gauge with heavy-gauge perimeter channels. Each of our doors is well suited for institutional, industrial or residential use in 1-3/4″ and 1-3/8″ thickness.
(Other Thicknesses Optional)
When our doors are shipped, they are "handed," prepared for 4-1/2″ by 4-1/2″ hinges, and either 161 cylindrical lock or 86 mortise lock edge. Customers may also order other optional hardware preps, including 5″ hinge, all types of exit devices, surface and concealed door closers, and overhead holders and pivots.
DP Series doors are available in all standard sizes as well as custom sizes up to 4′ 10 1/2″ in width and 12′-0″ in height . Doors 1-3/8″ thick and custom thicknesses are also available. DP Series meet performance standards outlined in ANSI A151.1.
DS Series Doors
Steel Stiffened Door Specifications :
DS Series Doors will be as manufactured by National and designated as:
(Specify as required)
DS-416—1-3/4″ thick, 16-gauge steel
DS-414—1-3/4″ thick, 14-gauge steel
DS-412—1-3/4″ thick, 12-gauge steel
Doors conform to:
NAAMM-HMMA Commercial Standards
Federal Specifications
Vertical reinforcements are 8″ on centers and spot-welded to each face skin. On labeled doors, all spaces between each reinforcement are sound deadened with .6 pound density mineral wool batts (fiberglass insulation).
Doors have square hinge and lock edges with visible edge seams.
(When required, we can furnish doors with edge seams welded, filled and ground smooth.)
Top and bottom inverted 14-gauge steel reinforcing channels are spot-welded within the doors.
(When required, we can furnish doors with top and bottom closed channels.)
We mortise and reinforce our doors with 7 gauge thick hinge tap plates. Lock reinforcements are 14-gauge steel.
All hardware locations are 3D SolidWorks CAD and CNC manufactured for accuracy.
Closer reinforcing will be 12 gauge when required. We provide other hardware reinforcements as required. All doors have spot-welds on face skins, filled and ground smooth. They are thoroughly cleaned and finished as standard, with one coat of rust-inhibiting prime paint.
We furnish our doors with Underwriters Laboratories, Inc. or Warnock Hersey certified labels where required.
DS Series Steel Stiffened Doors: "Tough." "High Performance."
That's how our customers describe the DS Series Steel Rib Doors.
We make our facings of prime quality galvanneal 16, 14, or 12-gauge steel. We reinforce them with vertical stiffeners for added stability. DS Series Doors feature 7 gauge hinge reinforcing, 14-gauge lock reinforcing and 12-gauge reinforcing for surface hardware applications. All 22-gauge vertical hat-shaped stiffeners as well as facings are spot-welded on 8″ centers for dependable service in schools, factories, hospitals—anywhere heavy traffic is a problem.