Stainless Steel Door Frames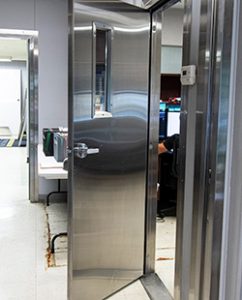 NCHM produces a variety of frames to meet every application, allowing maximum design flexibility without compromising strength and structural integrity.
Variable
"Easy" describes our K/D variable frame assembly process. A unique interlocking mitered corner joint creates a quick, clean connection in seconds. Simply insert jambs into the header and bend tabs over to secure the assembly.
Frame Series Thickness Gauge Steel:
S-416 – 16 Gauge
S-414 – 14 Gauge
S-412 – 12 Gauge
(Up to 16″ frame depth.)
UL, WH and Certified labels are available. Lead lining of frames is available where required.
Stick
Ideal for fabricating complete frame assemblies on location. Furnished blank or with provisions ready for hardware. Simple, reliable and time-efficient!
Frame Series Thickness Gauge Steel:
FS-416 – 16 Gauge
FS-414 – 14 Gauge
FS-412 – 12 Gauge
Drywall
Our unique Surlock Drywall Corner Connection makes frame installation fast and neat. Frame can be installed after dry wall is installed in as little as four minutes.
Frame Series Thickness Gauge Steel:
D-416 – 16 Gauge
D-414 – 14 Gauge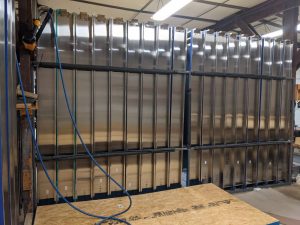 Construction:
Stainless hollow metal frames are formed of either 16, 14, or 12-gauge in Type 304 or 316 stainless, No. 3, 4, or 2b mill-finish stainless steel. Profiles are CNC brake press formed. We assemble head and jambs with a tab-and-slot arrangement to ensure accurate alignment of miters. We weld all exposed face joints and grind them smooth to produce an invisible joint maintaining the original finish. Continuous throat weld is available on frames, side lites, borrowed lites and windows.
Anchorage:
We provide a minimum of three anchors per jamb. Anchors suit the wall conditions and the requirements of the job, and a floor anchor is provided at the bottom of each jamb. Customers may also order KD Compression Anchor Frames.
Reinforcement:
We mortise, reinforce, drill and tap the frames with CNC accuracy for all mortised hardware items. Customers can be assured that all cut-outs will be accurately located and made to fit the specified hardware. Frames are reinforced for surface-applied hardware, with drilling and taping to be done in the field by the contractor. All component parts are stainless steel.
Design:
Stainless steel frames are available as standard or 3D SolidWorks CAD custom openings, borrowed lights, side lights and transom frames.