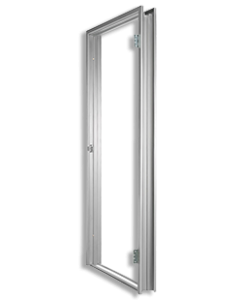 Up to 16″ Frame Depths
Welded, K/D to Weld, or K/D for Drywall Slip-On
NCHM offers added flexibility when fabricating standard or complex frame assembles. Purchased K/D to Weld allows local fabrications flexibility and eliminates costly shipping and time loss. Furnished blank or with provisions for hardware, and are available in 12'0″ lengths without splice or seams.
(Specify as required)
F-416 – 16 gauge steel
F-414 – 14 gauge steel
F-412 – 12 gauge steel
Frame assembles shall be constructed to conform to Commercial and Federal Specifications.
Frame Assemblies shall be fabricated from:
Galvanized steel in accordance with ASTM A525.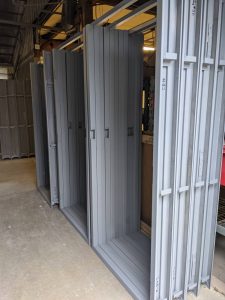 Frame assemblies shall be constructed from CR A-60 Galvanneal custom pre-paned for customer specified hardware and hinges etc. They shall be mortised and reinforced for all hardware as specified. Mullion sections shall have identical Jamb depths, face dimensions, and stops, to assure square joints shall be welded and ground smooth at the face of the sections.
When indicated, 1 3/4″ thick steel panels shall be furnished. Panels shall be of same construction as doors. Steel channel glazing beads (Minimum 18 gauge) shall be provided with the assemblies for all areas in which glass is to be installed. All frame assemblies shall be furnished with proper anchors of manufacturer's standard designs as required by wall conditions. All frame assemblies shall be thoroughly cleaned and finished as standard with one coat of rust inhibiting prime paint. Frame assembly shall be shipped to jobsite completely welded. Field joints shall be permitted only when the size of the total assembly exceeds shipping limitations. When frame assemblies are subjected to wind loads vertical members shall be free of field splices.